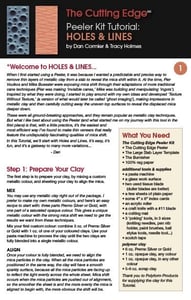 $

10.00
TUTORIAL
Since 2005, The Cutting Edge Peeler has become the 'go to' blade for hundreds of artists around the world to easily peel perfect patterned polymer clay veneers from striped stacks, mokume slabs, composite canes, and more.
More than anything, The Cutting Edge techniques that have made the biggest 'impression' are those that combine the precision of peeling with the dramatic mica shift possibilites in metallic polymer clay, giving unbelievable illusions of engraving, embossing, and 'Texture Without Texture' to smooth-surfaced slices of colour.
Holes & Lines is the 'Peeler Plus' tutorial that adds the perfect design complement to Peeler Basics. First published in Polymer Cafe Magazine in 2006, 'The Cutting Edge: Lines' featured Dan's groundbreaking 'heal, peel, and reveal' secrets, showcasing mica like never before.
For a fundamental intro to Dan's signature 'TWT' techniques, this 8-page full-colour tutorial is the original source for making simple but dynamic graphic patterns in metallic polymer clay.
Holes & Lines | $10
---
COMPANION PRODUCTS
ORDER TOGETHER & SAVE
To save on one of our bundles, click on each item in the bundle list to go to its product page and add it to your cart. Once you have all the items, enter the discount code, update your total, and the discount will be automatically deducted from your purchase.
The Peeler Kit Plus | $28
• The Peeler Kit
• Holes & Lines
Order both and save $2.
Discount Code: PEELPLUS
The Double Peeler Package | $55
• The Peeler Kit
• Holes & Lines
• The WIDE Peeler Kit
• Burnishing Kit
Order together and save $5.
Discount Code: DOUBLEPEEL
PLEASE NOTE
Prices do not include shipping & handling. This will be automatically added to your order, depending on quantity and destination.
< Back
Next >