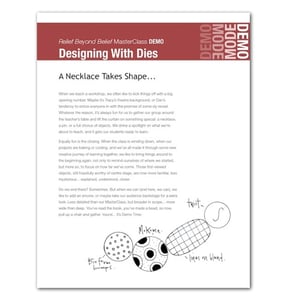 $

15.00
DIGITAL BOOK
Designing With Dies
A Necklace Takes Shape
a digital MasterClass DEMO
by Dan Cormier & Tracy Holmes
A companion to Relief Beyond Belief: Silhouette Dieforming in Polymer Clay, the debut volume in The Cutting Edge MasterClass Library.
Relief Beyond Belief shows how to Make a Bead using Cutting Edge Die Sets. This 26-page full-colour digital Demo book goes beyond to explore necklace design using the Die Set cut-outs.
What's in the book...
• Design Tools

a visual tool tableau and list of all the tools used in the Demo
• Make a Necklace
a step-by-step re-telling of how 12 cut-outs from two Die Sets were used to design the Relief Beyond Belief MasterClass Necklace, from choosing and arranging the shapes, planning the patterns and palette, to completing the necklace as a signed and wearable object
• Elements of Design
using one necklace as a reference point, shape, size, rhythm, balance, colour, and pattern are discussed, and other Circle+Stamen necklace design options are explored through more than 50 high resolution step-outs, sketches, and design diagrams
Discover a hands-on approach to design, and learn how to use Die Set cut-outs as 'actual size' tools to explore, plan, and produce necklaces, bracelets, earrings, and other flats and forms in polymer clay.
Designing With Dies | $15
---
COMPANION PRODUCTS
Relief Beyond Belief | $35
digital book
Die Sets | $22 | $25
9 dies + 9 cut-outs | $22
9 dies + 9 cut-outs + glass baking tile + storage box | $25
Polygon Die Sets | $14
5 dies + 5 cut-outs
Long Trio Die Sets | $8
3 dies + 3 cut-outs
Burnishing Kit | $10
4 Burnishers + 50 sheets of 100% rag paper
Glass Baking Tiles | $4
2 1/2" W x 3 1/2" H
2 ml glass with arrissed edges
Collector Pages | $1
binder page with 9 pockets
for storing Die Sets and Glass Baking Tiles
Storage Boxes | $1
clear plastic lidded box
for storing Die Sets and Glass Baking Tiles
ORDER TOGETHER & SAVE
To save on one of our Plus, Package, Duo, Combo, Sampler, or Tool Box bundles, click on each item in the bundle list to go to its product page and add it to your cart. Once you have all the items, enter the discount code, update your total, and the discount will be automatically deducted from your purchase.
Relief Beyond Belief Plus | $40
Get the MasterClass book, Relief Beyond Belief, and the companion demo, Designing With Dies, in one complete design-and-make digital download duo.
• Relief Beyond Belief
• Designing With Dies
Order both and save $10.
Discount Code: RBBPLUS
PLEASE NOTE
Prices do not include shipping & handling. This will be automatically added to your order, depending on quantity and destination.
< Back
Next >